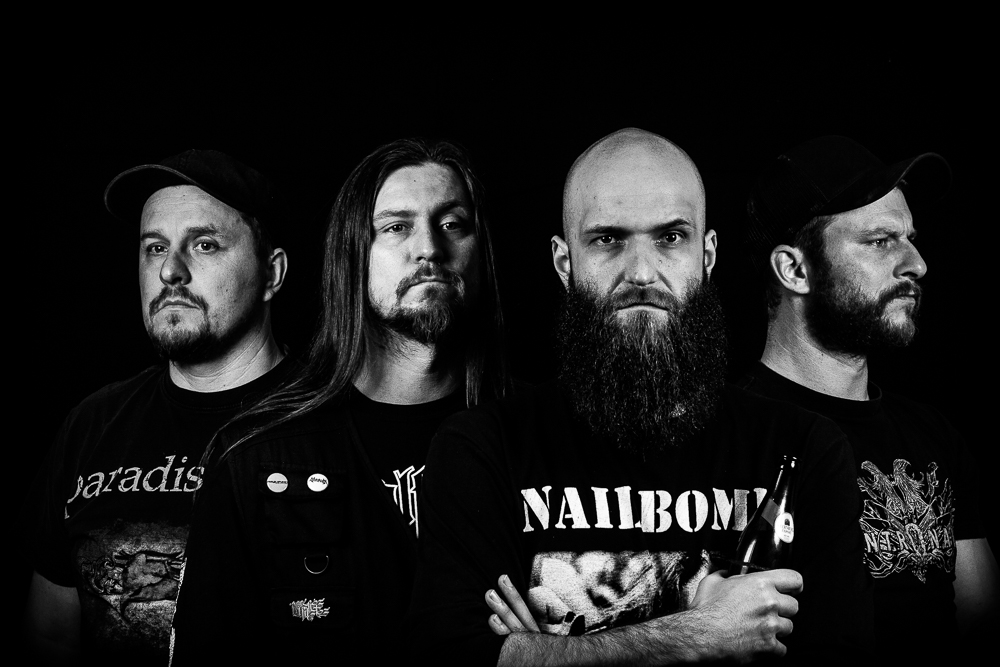 - Waste Down Grind aus Halle -
2018 - the Grindball is rolling and Germany's specialist no. 1 in Waste-Town-Grind is ready for the attack on the throne. ABJURED was formed at the end of 2005 by Ron (drums/vox) and Meise (bass). After a short time Koch joined the band as main-throat. Influenced by their lives, Swedish Grindcore, D-Beat and Stonerrock, they were looking forward as trio without guitars. 2007 they released a 10-track-D.I.Y.-demo "Photography Of The Sick". After this release Meise left the band and Brandy joined on bass. At the same time Thommy became the first guitarist of ABJURED.

After too many lineup-changes, because of personal differences, lies, work-crap and stress, ABJURED wasn't able to record their first album, which was planned for 2009. In 2010 the lineup fitted with Eric (guitar), Higher (bass), Koch (vocals) and Ron (drums/vocals).

During 2011 they recorded in their own Studio Basement Palace the first full length "Life You Know...?!". The album came out with the support of Halleluja-Stoner-Records and their own Label Basement Records on 17th December 2011. Till now they play fuckin' Waste-Town-Grind and create a Bastard who spits on this false society!!!

In 2012 Koch had to change some things in his life for his family. So he wasn't able to shout any longer in ABJURED. They just shifted the mainvox to Ron and the backings to Higher, so it works without frontdude. In 2012 Schwerra joined ABJURED as second guitarist and they made a lot of shows with him. In 2014 he left the band due to personal differences. So for now, ABJURED is a three-piece grindbastard.

In 2017 new WasteTownDoomedGrind trax are prepared to unleash upon mankind! Expect a rampart of Scandinavian styled Grind with blasts as fuck, D-Beat driven Crust parts which turns into bulldozing grooves and even totally switches to ambient/postmetal and doom/sludge! With a new lineup - now as quartet - the Grind Ensemble from Halle will be also able in 2018 to tear down the clubs live again. Welcome Evandro on vocals and Nico on second guitar'n'subfrequencies, so the complete recordings were improved again and shoot on higher level!

Both are long friends in ABJURED's musical history, playing in many bands like NECROTERIO, SK8, KORADES and until November 2017 in KAAPORA. They're truly inspired by these dudes and gonna kick stages together soon as a four-piece band. First rehearsals got well and Evandro has already done the mainvox on "Absolutist".

With a running time of about 40 minutes this masterpiece of grinding shit will be released on 3rd March 2018 on Defying Danger Records. Everything was done in the Basement Palace Studio, mastered by Patrick W. "Engel Öf Death" at Temple Of Disharmony. It's the authentic sound from the underground! No matter how ya call it: Grind, Crust, Death Metal, Thrash, Doom, whatever … It's OUR MUSIC, OUR DRUG, OUR LIVES! We can hardly wait to surprise you with it!